The Walking Dead, AMC's slow-blow, finely scripted, grueling zombie apocalypse flagship series, is on its seventh season of zombie head-crushing where-do-we-go-next, where-do-we-find-hope existentialism. After following the plight of Rick Grimes and company for all this time, it kind of got me thinking about the software-defined storage (SDS) trend. In the world of small and medium-sized data centers, are traditional SANs soon to be among the Walking Dead?
For data centers using Windows Server 2012 R2 or 2016, depending on the application, it might just be the case. That might be an overstatement, as SANs definitely have their place and purpose in many data centers, but Windows Storage Spaces and Cluster-in-a-Box (CiB) solutions have become a first-line storage solution in recent years, and more and more data centers are transitioning.
For companies choosing to offload backup and disaster recovery from their pre-existing SANs, Storage Spaces is a sure-fire choice as it can remove the workload completely out of the SAN, simplifying management and increasing performance.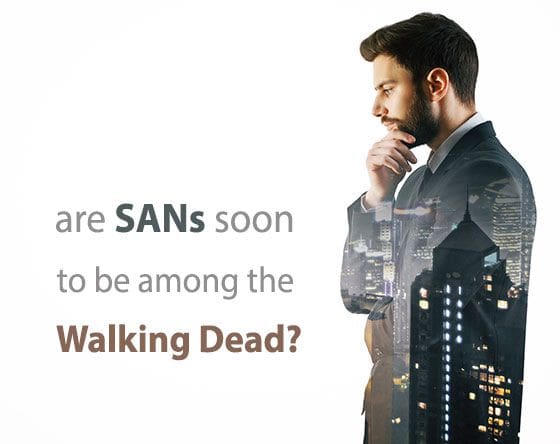 Take American Logistics Company (ALC), a national passenger transportation management company serving transit agencies, school districts and the healthcare industry. As ALC's business grew, so did its data center backup and recovery needs. In fact, ALC IT admins probably felt like they were in the Walking Dead watching backup and recovery performance metrics sluggishly crawl between 2,500 and 10,000 IOPS (depending on whether they used an HPE 1Gb iSCSI or EMC 8Gb Fibre Channel (8GFC) storage solution).
ALC's savvy IT department, like many, had been keeping its eyes on SDS and Windows Storage Spaces and hearing nothing but good things. When it came down to POC with the HPE and EMC solutions, factoring in cost and performance, ALC chose the Windows Storage Spaces DataON Storage Cluster in a Box (CiB) solution.
Not only did ALC save money, but could get 40x the IOPS performance than using the traditional SANs it tested—hitting a price-performance ratio homerun.
After a successful Windows Storage Spaces/DataON CiB deployment, ALC is currently testing business and mission critical silver and gold tier production loads on two more DataON CiBs running Storage Spaces in a Windows Server 2016 ReFS environment, which as of now, DataON is the only Storage Spaces vendor to offer full ReFS compatibility.