New inventory page for DataON MUST for Windows Admin Center on Azure Stack HCI validated nodes
In addition to all the exciting news around the new Microsoft Azure Stack HCI, DataON is bringing a new level of hybrid cloud monitoring, management, and maintenance to the DataON MUST extension for Windows Admin Center.
DataON MUST extends the capabilities of Windows Admin Center, a locally deployed browser-based apply for managing hyper-converged infrastructure (HCI), to deliver system alerts, call-home services and now a new inventory page.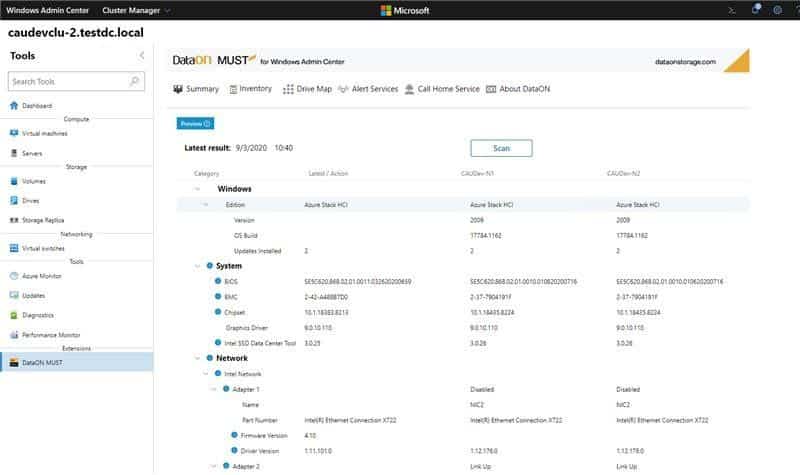 The new MUST inventory page provides:
Automatic checks against the latest quarterly validated server component image baseline from Microsoft with Microsoft Private Cloud Simulator (PCS) and VM Fleet performance tests
Automatic checks on all nodes to ensure they have the same OS version, drivers, firmware, BIOS, and baseboard management controller (BMC)
Real-time scans of all drivers including network cards, host bus adapter (HBA) cards, and chipsets
Real-time scans of all firmware including network cards, HBA cards, SSD and HDD drives
Real-time scans of the BIOS and BMC for server motherboards
We are excited to continue adding value to the MUST extension so DataON customers running Azure Stack HCI can get real-time visibility into Azure Stack HCI validated nodes.